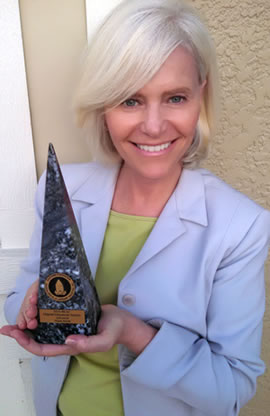 Diana Jarrett
Gemologist & Journalist
As the most recognizable voice in the jewelry trade for decades, graduate gemologist (GIA) and journalist Diana Jarrett applies her distinct writing style to in-depth laboratory analyses in prominent trade journals, consumer-centric luxury life style publications, blogs, and monthly trade news.
Diana is an oft invited speaker at trade shows and industry events presenting a wide range of jewelry and gemstone topics. She co-authored and completely revised the reference guide "Cameos Old & New 4th Edition," by Gemstone Press. Her work appears in Life in Naples, Rapaport Diamond Report, InDesign, Montage Magazine, Texas Jeweler, The Daily Jewel, Jewelry Showcase, Diamond Pulse, and New York Mineralogical Club Bulletin, Southern Jewelry News, Mid-America Jewelry News and more.
(New York, NY) Journalist-gemologist Diana Jarrett gathered three distinctive awards including the highest trophy for Education Articles-Advanced, from the Eastern Federation of Mineralogical and Lapidary Societies, Inc. for their Bulletin Editors Contest, reports the New York Mineralogical Club. Jarrett is a previous recipient of awards by the prestigious society for her contributions through journalism for complex gem and mineral topics.




A prolific contributor to the trade and luxury outlets for years, she is also a decade-long member of New York Mineralogical Club (NYMC), founded by legendary 19th century gemologist George Frederick Kunz where her missives are read in the NYMC Bulletin.